Could Brexit be a good thing for the insect sector?
Today in Buzzing:
We talk regulation – could Brexit be a good thing?

Q&A with David Allan, Spectrum

Test Corner: Cricket burger
Howdy everyone. How are you this week? This is the 6th edition of Buzzing and I feel that we've warmed up enough to talk about regulation (no, don't go!). If your eyes are starting to glaze already, consider this: until 2018, insects as food weren't covered by any EU regulation, for the very simple reason that no one had considered them food before.
You don't have to be a legal wizard to work out that lack of regulation is fairly problematic for a fledgling industry: investors/businesses risk losing their shirts if the regulatory winds eventually start blowing against them.
The EU's 2018 Novel Food Regulation does cover insects but requires that individual insect species be subject to an authorisation first. These are likely to start coming out in 2021 and when they do, those insect species will be allowed to be commercialised across the EU.
In the mean time, individual member states in the EU have interpreted the regulatory vacuum as best they could, with attitudes ranging from bug-friendly (UK*, Finland, Denmark) to insect-phobic (Italy, Portugal, Poland). Put another way, it would be harder to write Buzzing from Italy, where even the sale of Casu Marzu, Sardinia's famous "rotten cheese", which contains live maggots, is illegal (I really want to try it!).
Things are similarly blurry elsewhere: in Canada, crickets are not considered a novel food, but other insects might be; the USA has no specific standards for edible insects. And Australia and New Zealand seem to have adopted a case-by-case approach.
Then there is a kaleidoscope of approaches for the use of insects as feed: in Europe, you can use some insects in pet food and aquaculture feed, but not in poultry feed (you can, however, feed them live to chickens). In Canada, only Black Soldier Fly will do. Then there is the matter of the substrates (what you feed the insects), which is a whole other kettle of fish.
Confused? Insect producers consistently highlight the lack of regulation as one of the main hurdles to the sector's expansion. It's a bit like the chicken-and-the-egg: you can't have products without regulation, but you can't have consumers without products.
Regulation sets the tone of how governments perceive insects as food and feed. But as a rule, regulation usually plays catch up to trends set by consumers. So I thought it was interesting that insect producers in the UK are seizing Brexit as an opportunity for the UK to design its own insect regulation and fast track the development of the sector (the EU is supportive but slow). If that is the case, and I never thought I would say this, bring on Brexit!
* EU rules apply until the end of the transition period, which is the end of 2020.
The Q&A: David Allan, Spectrum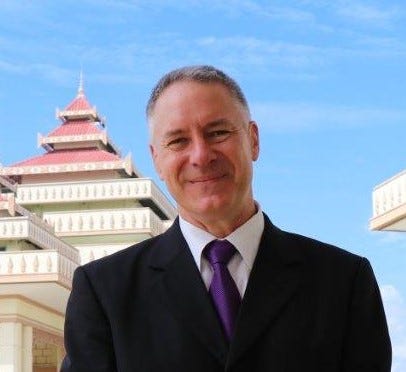 In last issue's newsletter, I wrote that Arnold van Huis had half-handedly joked that all it would take would be a celebrity chef for edible insects to take off. Well, David Allan, Director of Spectrum – Sustainable Development Knowledge Network, got in touch to say that he may have just found one. In Myanmar. David has developed a recipe book with local restaurateur Ei Phyu (pictured below) to encourage people to eat insects at home. Everyday Insects will be published this month. The book caught a local TV station's attention, who decided to turn it into a TV miniseries.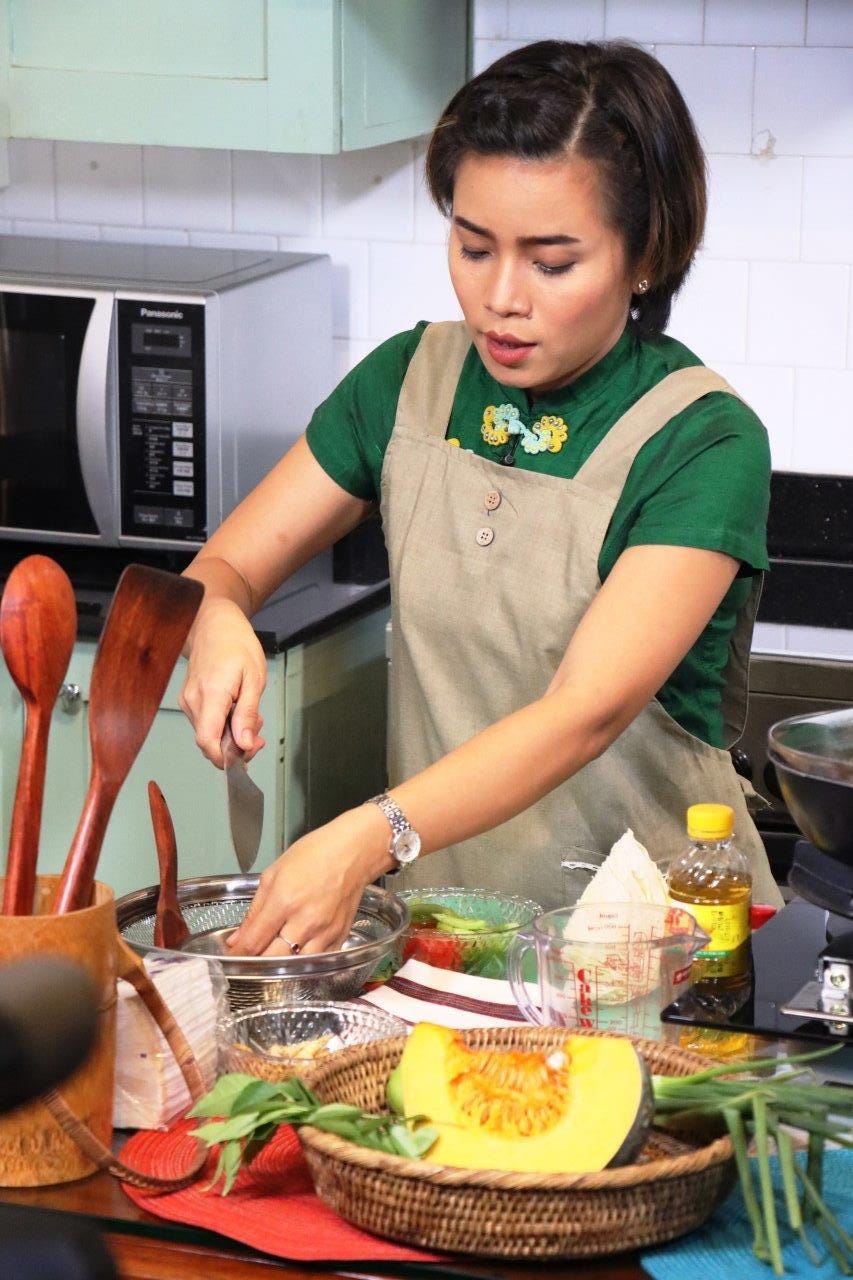 What gave you the idea of making a cookbook on insects in Myanmar? I thought many people already ate insects there?
Our interest in insects came through our work on adaptation to the climate emergency: we saw insects as a local, sustainable source of protein. But when we looked into it further, we found that people largely harvested insects in the wild, which isn't sustainable, especially if the sector grows further. So we wanted to encourage farming but people are used to big fat juicy crickets and found the farmed insects too small.
Also, most insects are just eaten fried, which is good for beer snacks but not really for meals. We want the recipe book to help create more of a market for farmed products. What I really want is to encourage supermarkets to stock farmed insect products. If consumers have interest, supermarket shelf space will happen, then the market will do its thing and encourage the farming sector like any farmed product.
What type of recipes and insects are featured in the book?
There are crickets of course, water beetles, red palm weevil larvae, silkworm larvae, ants, bamboo worms etc. You can't buy any of these in supermarkets yet, but you can buy them off the internet! E-commerce via Facebook has exploded with internet penetration in Myanmar; and you can also buy insects in local markets. My favourite dishes are the Red Ant Spaghetti and the Twin Poe salad.
How much interest is there in insect farming in Myanmar?
Myanmar is far behind its neighbour Thailand. There are supposedly more than 20,000 cricket farms in Thailand; I'd be surprised if there were more than 100 in Myanmar. But many people from Myanmar migrate to work in Thailand and many work in cricket farms. Then they bring back their experience. There is a huge amount of activity online: some of the Myanmar language insect farming Facebook groups have nearly 5,000 members. In the last month, I posted three manuals on how to farm Black Soldier Fly (for feed) and they were downloaded nearly 500 times…
Test Corner: Cricket Burger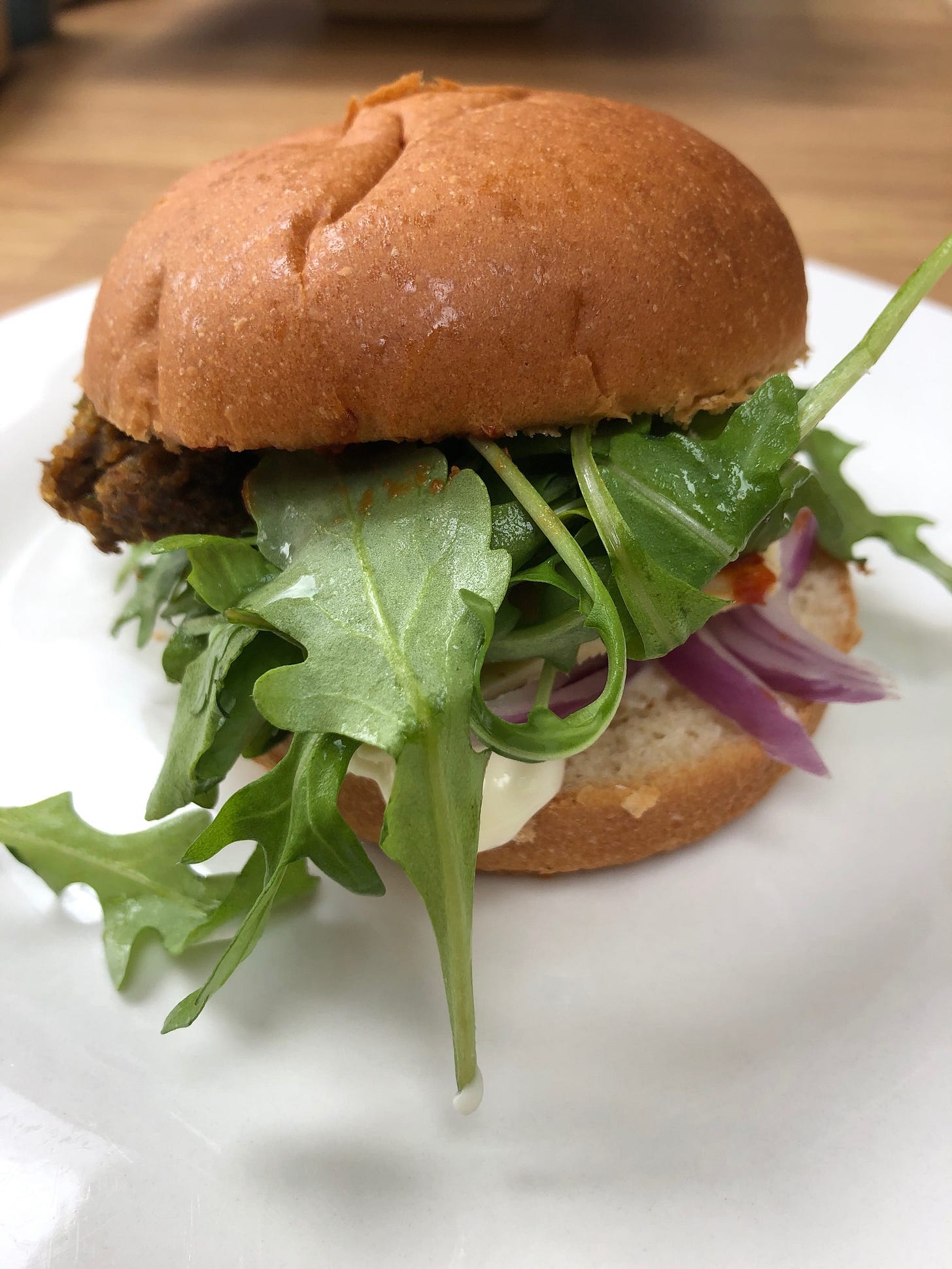 Last week, I made cricket burgers. And I did not like them. Worse, my little-boy-who-eats-everything didn't like them either, which is a new low (the only thing he has not liked in his three years of existence is mushrooms). My husband and daughter ate theirs but didn't exactly rave about them.
The main issue for me was the flavour. Despite the relatively small quantity of cricket powder per burger (see recipe below), cricket was all I could taste. It vaguely reminded me of liver, which I absolutely hated as a child. It's not the first time I have disliked food containing crickets, but I have also enjoyed some, so I've been trying to work out what went wrong.
First, it could well be that I put too much cricket powder in the recipe. Second, I used cricket powder rather than whole crickets blitzed in the food processor, which may have impacted flavour. And third, how you use the powder matters: I cooked it with the burgers, but I used it raw to make blissballs, which I (and little-boy-who-eats-everything, phew!) really liked (recipe in a fortnight). And finally, and most importantly, taste is subjective. I should add that the recipe is from the very trusted Horizon Insects, so give it a go, and let me know how you got on.
Recipe for 1 burger:
1 flat tablespoon of coarsely ground crickets [food processor]
2 heaped tablespoons of black beans
1.5 heaped tablespoon of chickpea [Gram] flour
1 heaped tablespoon of ground carrots [food processor]
1 flat tablespoon of finely chopped onion [food processor]
1 flat tablespoon of porridge oats
Plenty of fresh coriander [food processor]
1/3 of a teaspoon mixed spice of your choice (if your spice is not salty, do not forget to also add salt)
1/4 egg whisked
Mash the beans and mix with the other ingredients, except the egg. Slowly add enough egg to make the burger mix stick together into a patty.
Cook both sides in a lightly greased non-stick frying pan.
---
Hi, I'm Emilie Filou, a freelance journalist. I specialise in business and sustainability issues and have a long-standing interest in Africa. If you liked Buzzing, please share with friends and colleagues, or buy me a coffee. My funky cricket avatar was designed by Sheila Lukeni.