Buzzing: Yuck?
A few weeks' back, I came across an article in the Sun newspaper: "Bake Off judge Prue Leith releases gruesome video of her eating CRICKET risotto", read the headline. I watched the video: Pru Leith, in one of her signature jazzy outfits, in her lovely kitchen, cooking a mushroom risotto, to which she then added crickets. Gruesome? Really?
Of course it is a tabloid, but I thought it was telling how completely out of the sync the headline was with the scene. Insects are unfamiliar food in Europe and North America but they are commonplace in much of Asia, Africa and Latin America. In fact, the whole concept of what constitutes food is a cultural construct. Many Asian people think smelly cheese is an abomination; it is Ambrosia to me. Chef Alex Atala of restaurant DOM in São Paulo relates this amazing anecdote about how when indigenous populations in the Amazon tasted ginger and lemongrass for the first time, they said it tasted like ants.
Still, disgust is a real and an important emotion: without it, our ancestors might have eaten contaminated food and died. So how does one get over this "yuk factor"?
Part of the answer is to be open-minded, to be willing to accept that your food world is not the definitive world of food. And the other is just to go along with the twin forces of culture and capitalism. Back in the 1970s, sushi was pretty esoteric outside Japan. Then came the California roll, which took America by storm in the 1980s, and landed on European plates, conveyor belts and all, in the 1990s. Sushi is now so normalised that I know children who've asked to go to YO! Sushi for their birthday, just like they would to Pizza Express or Nando's.
It really isn't far-fetched to imagine the same could happen with insects in the next 10 to 20 years. Not only is there increasing consumer awareness about the environmental footprint of our food system (especially amongst young people, who will be the buyers of the future), there is also a raft of multinationals with insects in their sights. They have already sold us Marmite (yum), Spam (yuk) and Fruit Loops (think about it…), so if they put their mind to it, cricket crackers and mealworm burgers will be flying off the shelves before we know it.
I'm not suggesting that insect processed food is better than other processed foods (I am a fierce advocate of home-cooked food), merely that we should be open to the idea that insects are food, and that there may be ways to enjoy them in a western diet. What do you make of my mealworm falafels (see below)? Or Pru's cricket risotto?
The Q&A: Talash Huijbers, InsectiPro
Insects can help replace environmentally damaging protein sources such as fishmeal and soy in animal feed: fishmeal is contributing to overfishing and soy is major driver of deforestation. I'll touch on this at greater length in the next edition but in the mean time, meet Talash Huijbers, founder of InsectiPro, Kenya's second largest producer of Black Soldier Fly (BSF) larvae. Talash, who is just 25, got the idea to set up a BSF farm after her family looked into starting a fish farm and noticed how expensive fishmeal, a key ingredient of animal feed, was.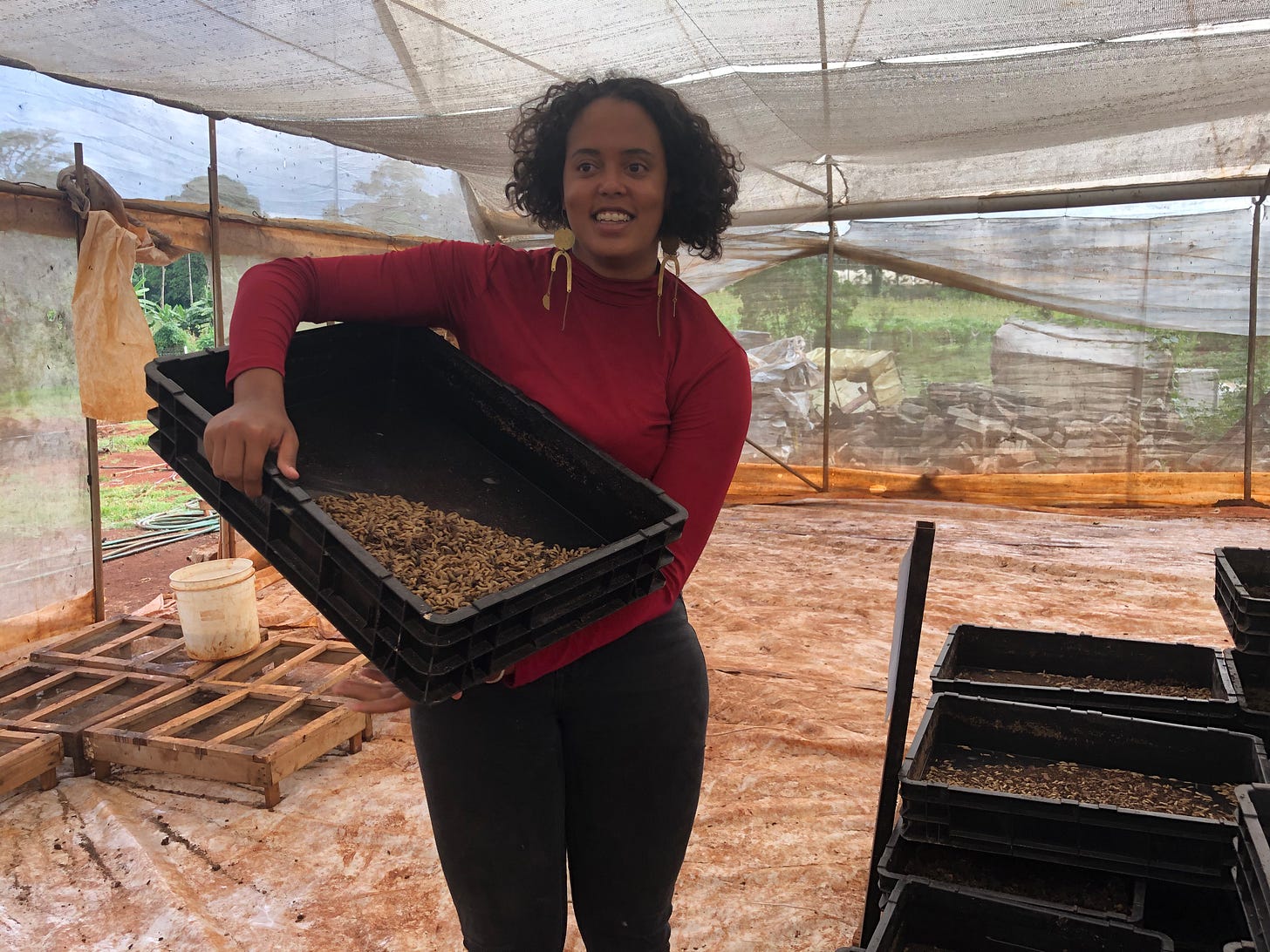 How did you come up with the idea of insects as a source of protein for animal feed?
I studied in Holland and crickets were trending at the time. Crickets would have been too expensive to produce for animal feed so we settled on the Black Soldier Fly. Before I started however, my Dad said he had two questions for me: is there a market for it? And is there enough waste [to feed the larvae]? So I talked to the production manager of a big potato chips factory and asked him whether we could take all his organic waste, and he was like: "Sure, the truck is waiting, where do I send him?". I also set up a meeting with the biggest feed manufacturer in East Africa and they just asked: "When can we get 500 tons?". After that meeting, I called my Dad and said, we need to start tomorrow!
How does one learn to grow black soldier fly?
We have spent the last 18 months growing our colony to reach commercial scale production capacity and it has been a very steep learning curve. Our first cycle from 5-day old larvae to fly was six weeks (it's supposed to take four at most) and we thought: what are we doing wrong? Now, our cycle from egg to egg is 28 days, which is what we're looking for. We have an industrial engineer on the team who is trying to bring down our harvesting period from 12 to eight days. That would make a big difference in cost and efficiency.
What's next for InsectiPro?
We recently started rearing crickets for human consumption and are now running product trials with a few local companies; we've sent the first few batches for export already. Apart from crickets, we are exploring the world of insects to see what we can grow next!
We hope to have the largest BSF facility in East Africa and once we get it right, we will copy and paste to fit our model to other big cities in East Africa in the next five years.
Most exciting of all, we have partnered with IDH, the Sustainable Trade Initiative, to create an outgrower model for farmers to be able to grow their own BSF on farm waste to reduce feed costs.
Test corner: Mealworm falafels
I made mealworm meatballs the other day, and they were delicious. I adapted a Jamie Oliver recipe for vegetarian meatballs: I basically took out the bulgur wheat and replaced it with 45g of mealworms, which I'd bought from Eat Grub. They just got whizzed in the food processor, along with the chickpeas, cooked veg, bread crumbs etc.
On their owns, the mealworms have a very nice, subtle oaty flavour, which is rather lost in the meatball. Still, when I pan-fried the meatball before baking them in the oven with the tomato sauce, it filled the house with the most delicious smell, and I think some of the aroma was down to the mealworms.
The meatballs were really tasty and not dissimilar to falalels in taste and texture. The kids loved them; one of them complained that the tomato sauce "ruined" the dish (a future food critic no doubt) and I kind of agree: the sauce overwhelms the meatballs. Next time, I will serve them more like falafels, in a pitta bread with a yoghurt sauce and a salad. So mealworm falafel (not meatball) it is.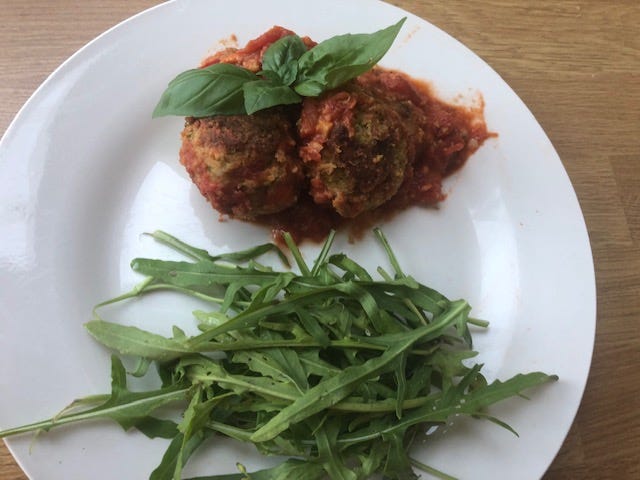 Note: I don't accept freebies and buy all the products I test.
---
Hi, I'm Emilie Filou, a freelance journalist. I specialise in business and sustainability issues and have a long-standing interest in Africa. If you liked Buzzing, please share with friends and colleagues, or buy me a coffee. My funky cricket avatar was designed by Sheila Lukeni.