Buzzing: Why don't we eat insects?
In June 2019, at the grand old age of 39, I ate my first insect. Intentionally*. I did it in the name of research for a story I was writing about edible insect projects in Madagascar. Had it not been for work, there is no way I would have tried it. I found the idea of eating insects simply revolting.
But doing preliminary research for the trip had thrown up some amazing facts about edible insects: firstly, 2 billion people regularly eat them. That floored me. I knew people in Asia, Africa and Latin America ate them, but a third (ish) of the world population? I couldn't get my head around the fact that insects were a staple for so many when most people's gut reaction in Europe was to squash them.
Secondly, I was amazed by their potential as a sustainable source of protein. Insects are incredibly nutritious, with high protein content and important amino acids. They also require less water, land and feed than conventional meats such as beef, pork or chicken (their competitive edge on global warming is less clear-cut however).
This revelation came at a time of heightened personal environmental awareness, when I started making meaningful change to my lifestyle to reduce our environmental footprint. So insects struck a chord.
This was enough to convince me to try it. My first was a Malagasy planthopper called sakondry. I had to muster every ounce of willpower to override 39 years of cultural and social conditioning that screamed "uuuuurgh" at my brain. I was so nervous I actually dropped my first serving (the chickens polished it off). Once I allowed myself the chance to taste it however, I liked it: kind of like bacon or peanut butter.
Since this first tasting, I have tried more insects, some of which I've liked (ants, mealworms), others less so (silkworm, crickets). This shouldn't come as a surprise: there are around 2,000 species of edible insects so the idea that you would like all insects is as ridiculous as the idea you'd like all mammals (roast marmot anyone?).
Over the past year, I have researched the concept of insects as food and feed (for animals) in depth and written a number of articles. I want to use this newsletter to explore the topic further and see what people make of the idea of insect protein: how sustainable is it really? Do we risk replacing one industrial protein-production system with another? Can we get over that yuk factor? Shall we just feed insects to animals? Would vegetarians and vegans eat them?
I also want to share my own journey as I explore this whole new category of food and re-wire my brain to see insects as just another ingredient, so I'll share recipes, product tests and other experiments (attractions, restaurants, courses etc).
Every two weeks, you'll find a topic to (ahem) chew on, an interview with someone doing cool insect things, and one home-tested insect recipe or product.
Sign up for plenty of food for thought 😊
* I say intentionally because I have swallowed the odd bug whilst running and cycling; also, if the US Food and Drug Administration guidelines are anything to go by, up to 150 insect fragments are allowed per 100g of wheat flour. Given my penchant for bread, I must have eaten copious amounts of bugs already.
---
The Q&A: Thomas Constant, BeoBia
For my very first interview, I thought it fitting to bring you the future: mealworm growing kits. The concept is not new but Thomas Constant, founder of BeoBia, is giving them the full 21st century treatment, with a sleek design, recycled bioplastic, and crowdfunding power: the company has smashed its £5,000 fundraising target and raised more than £16,000, with seven days to go. The concept is simple: five trays, which allow you staggered growth of your mealworms and a harvest of your very own protein every two or three weeks. Disclaimer: I have pledged to BeoBia's crowdfunding and look forward to receiving my kit in November, which will definitely feature in the Test Corner.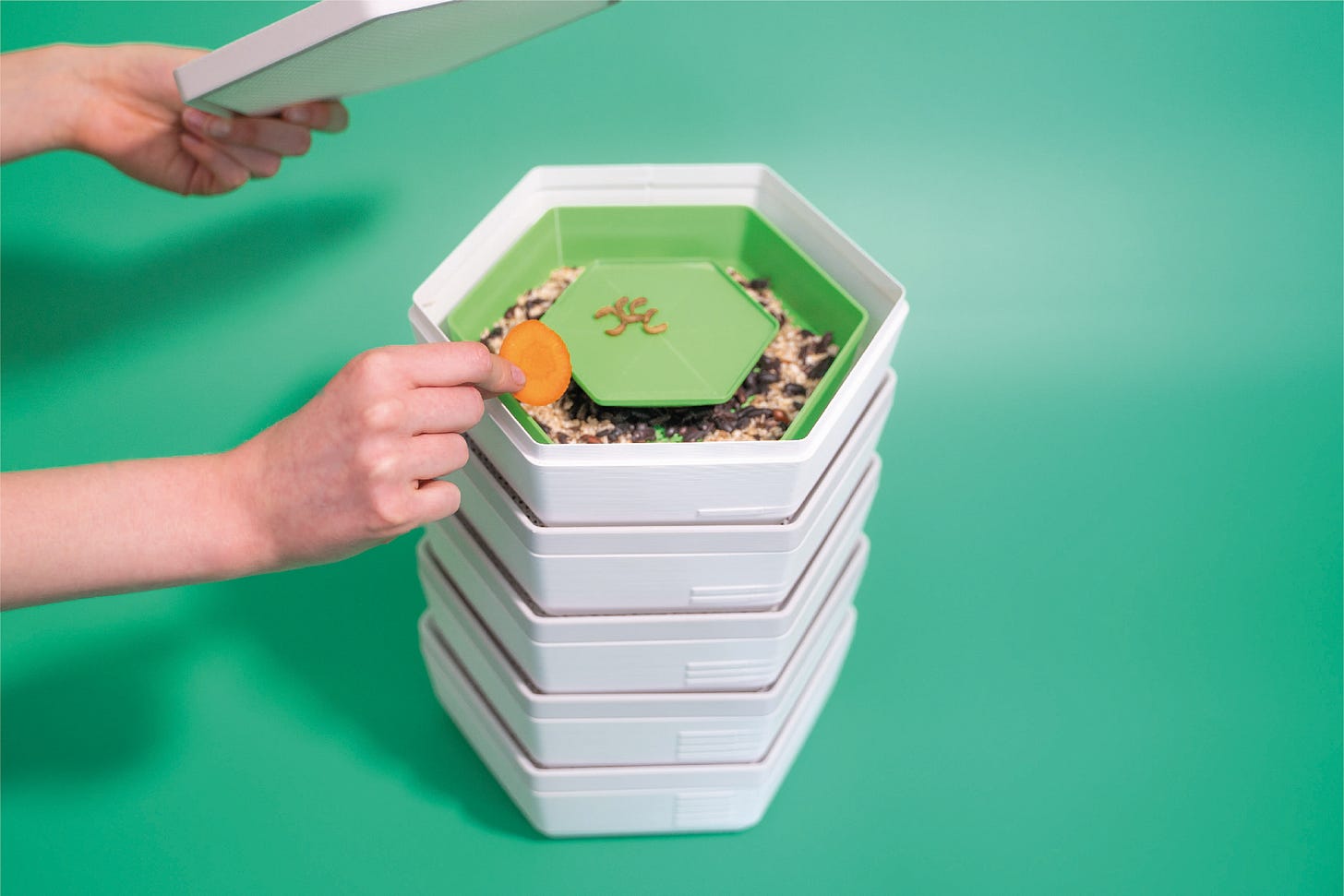 How did you get the idea to set up BeoBia?
The idea was born out of the shocking realisation that intensive livestock farming is destroying the planet and society. The turning point for me was when I learnt that if cows were a country, they would be the third-largest greenhouse gas emitter in the world, between America and India.
We know that young people are increasingly concerned about the impact of food on the planet. There is lots of innovation on alternative protein and they are amazing, but there needs to be innovation to produce your own food.
We have designed a modular kit that can fit anywhere to produce mealworms by feeding them fruit and vegetable waste. The kit is made of recycled bioplastic. I believe it's a truly sustainable way to source protein, wherever you live.
Are people ready for this?
I have no doubt that this will be popular in the near future. In the next decade it will become almost mainstream. But we are pushing the boundary of what's culturally acceptable. We have designed our kits to be an entry level, affordable product. It will appeal to people who are interested in growing their own food – a bit like growing herbs, having an allotment or a beehive – but don't have much space.
There is no need to have huge food miles. I think Covid19 has empowered people to think about how their food is produced and where it comes from.
Most people have never cooked with insects, let alone reared them: what tips do you have?
Mealworms are incredibly versatile and they are 54% protein. You can cook them in the oven or fry them in the pan for a couple of minutes. You can make pizza dough, flour, smoothies. We are preparing an e-book of recipes.
We have also created a user manual addressing questions like how to process the mealworms, how to wash the trays or what happens if you're going on holidays. But we chose mealworms because they're low maintenance insects: they don't chirp, jump or fly. They pretty much just eat and lay eggs!
---
Test corner: Bug Farm Foods Cookies
Research shows that we are much more likely to be open-minded to new foods if they come in a vaguely familiar form and if our first experience is positive. I therefore present you with these crowd-pleasers: cookies from Bug Farm Foods.
They come in three guises: chocolate chip cricket cookies, mocha chili crunch cricket cookies, and spiced orange and laverbread buffalo biscuits. If you've never tasted crickets or buffalo worms before, I don't think you'd be able to distinguish their flavours here, but I suppose that is the point: insects are just another category of ingredients, which can be cooked in delicious and familiar ways.
The chocolate chip cookies taste to me just like any other upmarket chocolate cookies you can buy from supermarkets. They're perfectly nice but a tad underwhelming for the price (£5.99 for a box). The other two are in a different league however. The spiced orange and laverbread are deliciously aromatic, with a great bite to them. The real winner is the mocha chili crunch though: melt-in-the-mouth, with a real spice kick, and a divine mocha flavour, it feels like a luxurious, grown-up biscuit. I could eat the whole packet with a cup of tea…
Like many insect products, the cookies are pricey (I'll delve into this at some stage); I will certainly buy the mocha chili crunch biscuits again as a treat. With their beautiful packaging, I think they'd also make great presents.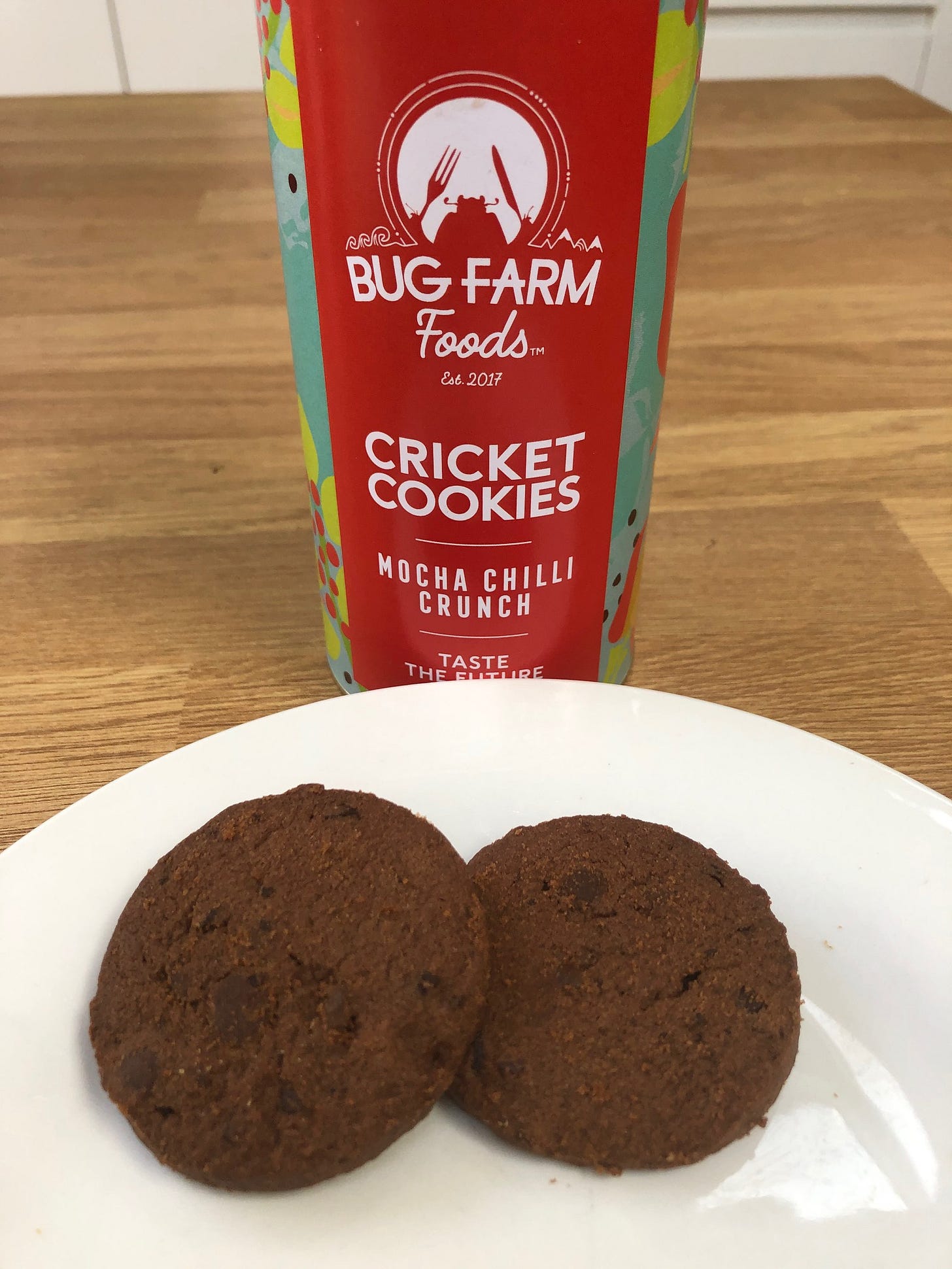 Note: I don't accept freebies and buy all the products I test.
---
Hi, I'm Emilie Filou, a freelance journalist. I specialise in business and sustainability issues and have a long-standing interest in Africa. If you liked Buzzing, please share with friends and colleagues, or buy me a coffee. My funky cricket avatar was designed by Sheila Lukeni.