Buzzing: Can insects make meat & fish more sustainable?
Avid readers of Buzzing will remember reading about Talash Huijbers's Black Soldier Fly (BSF) farm in Kenya last edition. Her company, InsectiPro, may be one of the largest in Kenya, but there are many elsewhere in Africa, Europe and North America. In fact, most of the money that has gone into insect protein in the "developed world" over the past few years has gone to insects for animal feed rather than food for human consumption.
So why would you feed insects to animals, I hear you ask? In industrial farming, soybeans have become the foundation of livestock feed, leading to extensive deforestation in South America. Fishmeal is another important ingredient of animal feed, especially in aquafeed for aquaculture (popular farmed fish and seafood such as trout, salmon and prawn are carnivorous): as a result, 20% of global wild catch goes into producing feed for other fish. Considering the pressures marine ecosystems already face from overfishing for human food and pollution, the use of whole fish to make fishmeal is indefensible. Feed manufacturers are therefore looking for alternatives to soy and fishmeal.
Now, the quickest solution to this would be to stop eating animal products. But I don't think this is realistic: veganism will never be for everyone. With rising income usually comes increased protein consumption and it would be disingenuous to say that aspiring middle classes in emerging markets shouldn't enjoy this privilege when we went through that very transition in the mid-20th century. But we, affluent westerners, definitely don't need meat/fish/dairy every day and we could, and should, make the effort to reduce our consumption to ease off pressure on resources.
Since meat and fish are here to stay, we should strive to improve how they're produced. Using insects as an alternative to environmentally damaging protein like soy and fishmeal is one approach. They feature in the natural diets of a number of animals (chickens, pigs, salmon, trout) and their nutritional profile is excellent.
This is not a pipe dream by the way: insect-fed products have already hit the shelves in Europe. Consumers in the Netherlands can buy OERei eggs, laid by hens fed with grains, seeds and BSF (one fan tells me they taste "deliciously eggy"). And shoppers at Auchan supermarkets in France can buy trout that has been fed BSF.
McDonalds and Nando's are now looking into the potential of feeding insects to their chickens. And Britisih supermarket chain Tesco's is working on a BSF roadmap with WWF.
One concern with the use of insects as feed is that to be viable, it will require hundreds of millions of tonnes of insects. In the words of one sceptic, it is a "high volume low margin" business. Are we therefore adding just another layer of industrial production to the very system we're trying to reform? I haven't made up my mind yet, partly because the industry is in its infancy and I know entrepreneurs are still bringing disruptive ideas to market. What is certain however is that it is not a panacea, and that I'll keep meat and fish as occasional fare.
The Q&A: Tiziana Di Costanzo, Horizon Edible Insects
Horizon Edible Insects is an urban insect farm in Ealing, west London. It's run by Tiziana Di Costanzo and her family, who started eating insects way before it became "a thing". Horizon now rear mealworms and crickets, run farm tours and organise fab insect cooking courses (review in Buzzing's next edition!). They've become something of an indy voice in the sector and have featured in a number of TV programmes. You can buy their products on Amazon.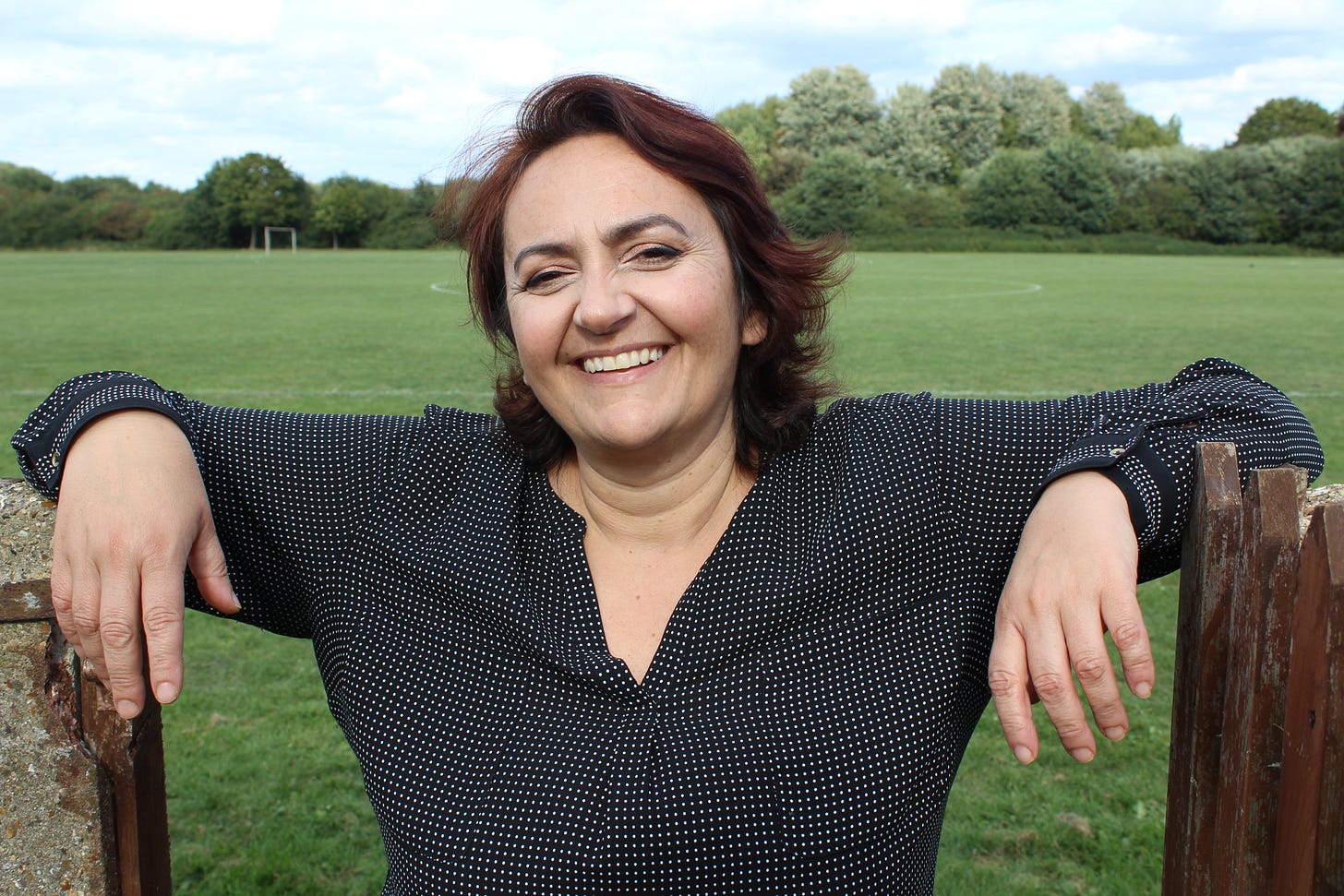 How did you first get interested in edible insects?
The idea of farming insects for human consumption started as our son's school project, which was inspired by the FAO report Edible Insects: Future Prospects for Food and Feed Security published in 2013 [it is apparently the FAO's most downloaded report ever]. Back then, we started farming insects in our utility room to feed to our family of four and found them delicious and easy to breed.
At what point did you decide to make it a business?
A few years on and many hundreds of thousands of insects later, in 2018, Horizon started trading. As a Planet Before Profit we saw there was a need to provide an alternative to the influx of insect products wrapped in not recyclable plastic. Furthermore, we were shocked by the amount of surplus of fruit and vegetables from our local shops going to waste and wanted to provide a way to combat the throw away culture. We also saw our mission to encourage others to try growing their own insects and to switch to a fresh locally produced source of protein, as a way of contributing to the preservation of our planet. At present, there are no other urban farms in London, but we hope others will follow. This year, we've welcomed many young entrepreneurs through our doors, all wanting to learn what we do, and with plans to do the same. 
How do you see the sector developing over the next 5-10 years?
Bug business is big business. Some companies have secured multi-million funding and have started mass producing insects. In our view, this is paving the way towards the production of "battery insects". We are already seeing environmentalists and local communities up in arms in places where farmland is being cleared and wildlife habitat destroyed to build massive insect breeding and production plants. We are heading towards swapping a corrupt protein production system with another. We need the shortest supply chain possible to alleviate the environmental costs of transporting insects for thousands of miles. Our vision is one of small scale sustainable urban farms serving local communities; sadly, our vision is already looking like one of what could have been. 
Test Corner: Buffalo Worm Chocolate Rice Krispies Cake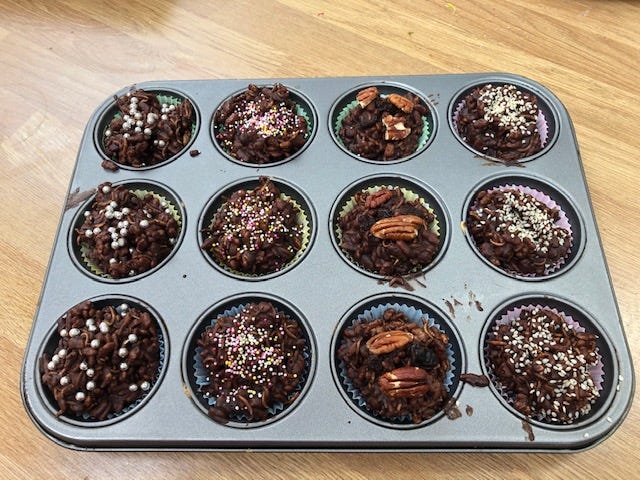 I made these beauties last week and they were scrumptious. Well, according to the people who ate them, that is: three people in my sample group of 10 wouldn't eat them because you could see the buffalo worms. That's nearly a third, pretty high considering it involved chocolate.
Anyway, I don't blame them because I would have reacted the same a year ago. Interestingly, all four children in the sample group polished theirs off. No questions asked and some phenomenal chocolate moustaches afterwards.
I actually baked the cakes with my three-year old, who, after an almost imperceptible double-take, proceeded to eat the buffalo worms straight out the packet.
As far as recipes go, there isn't much not to like (unless you don't like chocolate of course): 100g milk chocolate, 50g dark chocolate, 100g butter, and 4 tbsp of condensed milk, all melted over a bain marie, to which you then add 100g of Rice Krispies and 45g dried mealworms. Stir and scoop into cup cake paper cases (I found that putting them in a muffin tray helped them keep their shape). We then decorated them with sprinkles, sugar beads, sesame seeds and fruit & nut and refrigerated them for an hour (recipe makes 16).
According to the friend who gave me the highest mark (9/10), he couldn't have distinguished them from a normal Rice Krispies cake. I'll take that!
---
Hi, I'm Emilie Filou, a freelance journalist. I specialise in business and sustainability issues and have a long-standing interest in Africa. If you liked Buzzing, please share with friends and colleagues, or buy me a coffee. My funky cricket avatar was designed by Sheila Lukeni.