Buzzing: Are insects greener than meat?
In Nordic Food Lab's brilliant book On Eating Insects, Mark Bomford, Director for the Yale Sustainable Food Programme, writes: "If an insect and a cow get into a metrics fight […] the insect always triumphs." Whatever the enviro-metric – water requirement, greenhouse gas emissions, feed-conversion ratio – the insects have it. After extensive research however, he concluded that "insects, like all foods, were much more than the sum of their terrific-looking feed-conversion ratios or carbon footprints […] They were land, life, culture, ecology, meaning and mystery." Crikey I thought.
His argument stayed with me because it put a hole in all the beautiful infographics I'd seen – and created myself. The broad arguments in favour of insects' green credentials is that they require less water, land and feed than conventional meats such as beef, pork or chicken, and that they emit fewer greenhouse gases. This premise is not entirely correct, but neither is it completely false.
First, in the same way that there are significant variations between the environmental footprints of say, beef and chicken, there are significant variations between insects (crickets are amongst the least green for instance) and metrics (top on land requirement thanks to vertical farms, not so much on global warming potential because you generally need to heat said farms).
Second, it is widely acknowledged that insects' largest environmental footprint is linked to their substrate (their feed) and energy requirements. It is obvious that switching from fossil fuel to renewable energy or not requiring any energy at all (eg by growing them in the tropics) would substantially reduce their energy footprint (although flying them half-way around the world would defeat the point – I'm sure someone will crunch the numbers on this one day). The same goes with substrate: feeding insects commercial feed sounds like an aberration, yet commercial demands and regulation mean feeding food waste to insects is not straightforward. There are many categories of food waste and regulators have strong views about which are suitable for animal feed, with very good reasons (remember the BSE crisis?).
Which leads me to my last point: the industry is fledgling and the room for improvement is huge. Technological innovation in industrial processes is bound to lead to significant improvements too. Regulators are playing catch-up too and organisations like the International Platform of Insects for Food and Feed (IPIFF) are lobbying for regulatory changes that would unlock insects' green potential.
Perhaps we also need to re-think the types of insects we could eat. In On Eating Insects, chef Joshua Evans explains that after flying all over the world in quest of delicious insects, Nordic Food Lab felt they should also look for native insects they could eat in Denmark, such as bee brood, ants and cockchafer. But could these be reared commercially? Or should we just grow our own insects (I'm looking forward to my mealworm kit!)?
If you're screaming "just give me a yes or no!!" by now, I hear you: I would love it to be so simple as "meat bad, insects good". But like all things, it is complex. Bomford was right.
The Q&A: Andy Holcroft, founder & chef at Grub Kitchen and Bug Farm Foods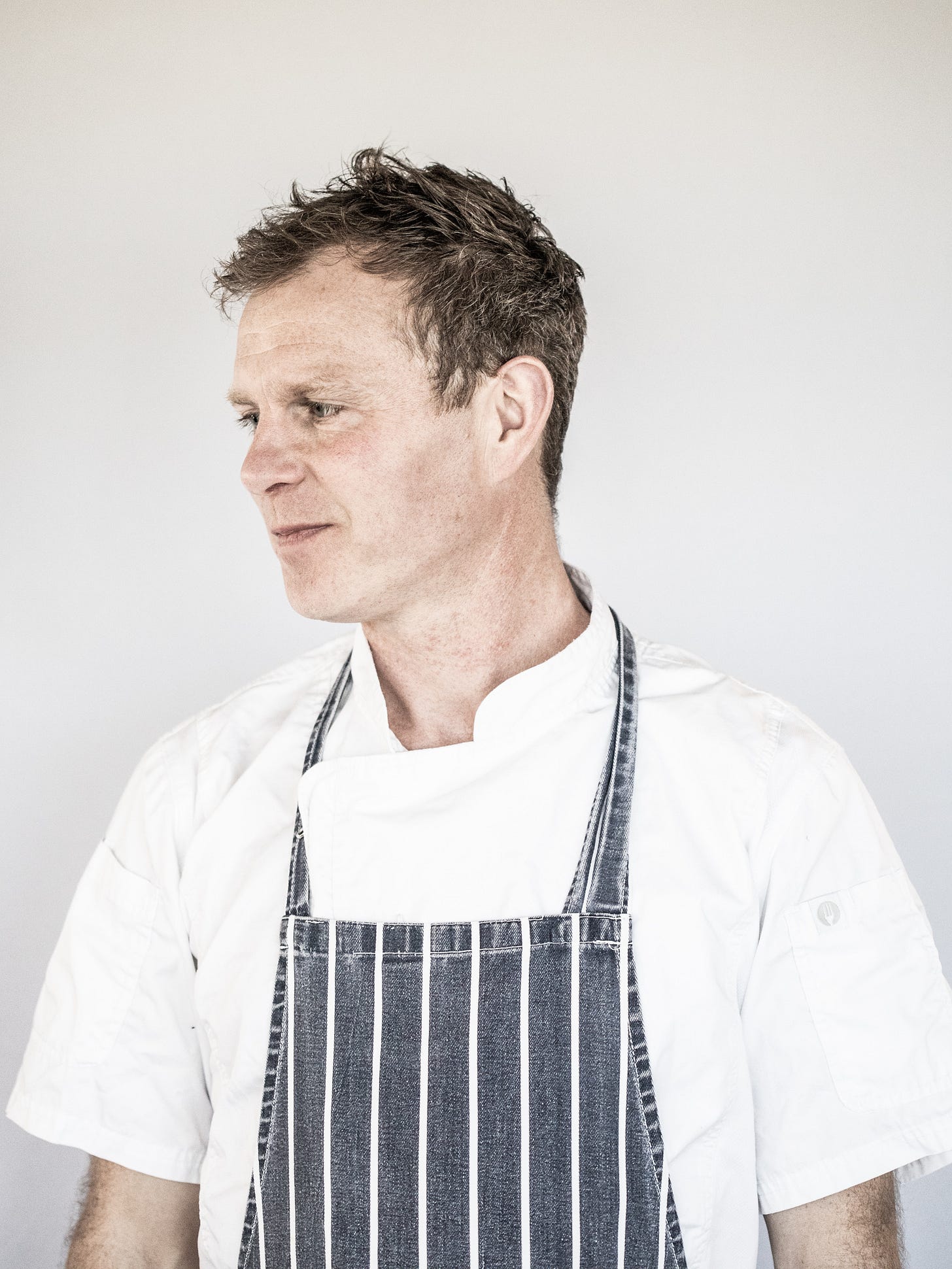 Andy is a chef and the man behind those delicious biscuits I reviewed in my first newsletter (I expect you've all placed bulk orders by now). Andy's wife Dr Sarah Beynon, an entomologist, founded The Bug Farm, a research centre, farm and visitor attraction in Pembrokeshire that looks at sustainable farming practices alongside wildlife conservation and the role of insects in ecosystems. Andy founded the on-site restaurant, the aptly-named Grub Kitchen. I paid Grub Kitchen a visit a couple of weeks ago, when his cricket and jackfruit burger made me wonder how burgers could be made of anything else.
How did you first come across edible insects as a chef? I can't imagine they had them at catering college…
Not at all! I first came across them through Sarah. I saw that a couple of places had used edible insects in the UK as a dish or as a special, but in my mind, they hadn't really cooked with them: they'd more sprinkled them on something or put them underneath some cheese and grilled it. I wanted to use them as the primary ingredient in a dish. So I blended some mealworms with some spices, bound it together and made a mealworm kofta kebab. It was really delicious and I thought: this is the future. I've made something that looks like meat, that tastes like meat but is more sustainable.
How did you take the leap from piqued curiosity to actually opening a restaurant where insects are a staple?
I was working in a restaurant when I started experimenting and I brought my insect dishes to work and the restaurant owner was like, "No way, get them out of my kitchen". A year later, I applied for a social entrepreneurship fund, which allowed me to run feasibility studies and trial products at festivals around the country. And I realised that we were more ready than we thought. Then Sarah decided to open The Bug Farm and the idea of a restaurant seemed like a natural addition to a visitor attraction.
What tips would you give to someone who's interested in cooking with insects?
A first thing would be to not burn them. They're already dried, dehydrated, so they're going to taste burnt very quickly. Treat them as a spice. The other tip would be to use a little bit less than you think because they are quite nutrient dense. And I would say: use insect powders in things like bread, pasta and baking, but use whole insects in more saucy dishes like curries, pasta sauces, or as a garnish.
Test Corner: Insect cookery class at Horizon Farm, London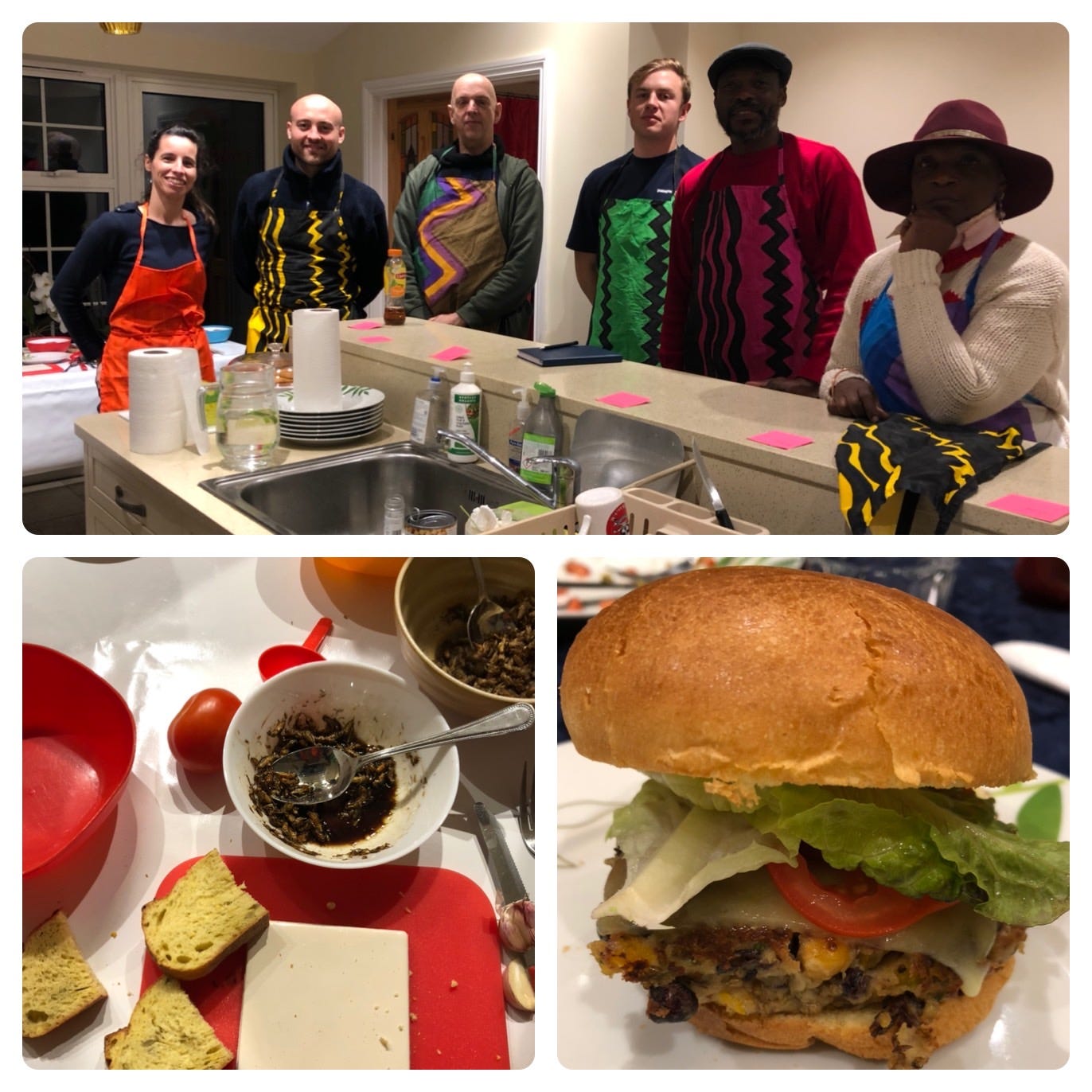 Last December, on a grim Sunday afternoon, I headed to Horizon Farm in West London for a cookery class on edible insects (you will obviously remember that I interviewed founder Tiziana di Constanzo last edition). I liked the sound of the class because although I was curious about edible insects, I didn't have the first clue how to cook them. It sounded fun but also realistic, home-cooked food rather than a gastronomic endeavour that would call for ingredients from Harrods and require sand-blasting the kitchen afterwards.
The three-hour classes (£28) are run by Tiziana and her husband Tom, from their home. They start off with a tour of their mealworm and cricket farm at the back of the garden, followed by a short, informative presentation about edible insects. The pièce de resistance was the cooking.
The class was really convivial, with just six people (since Covid-19, it is just five) and Tiziana's warm guidance. I was amazed by how everyone just got on with it – no squeals of squeamishness or reticence. Obviously if you sign up for an insect cooking class, you know what you're in for, but it was still something of a revelation to see that not everyone has an innate aversion to insects.
We then sat down for our feast in the dining room. I liked the cricket bruschetta with cornbread but the mealworm pakora stole the show. The burger too was delicious: I'd opted for a bean-based burger and I was impressed by the fact that it held together really well (my experience is that veggie burgers usually collapse in a squidgy mess). As for dessert, the mealworm chocolate nibbles (mealworms in melted chocolate, on chocolate thins) were to die for, but I must confess that I didn't like the cricket cookie. We had forgotten to put in the cinnamon and Tiziana had warned us that it would be "very cricket-y": definitely too much for me.
Still, I liked four of the five dishes we made, and the class inspired me to experiment at home. Results.
Note: I do not accept freebies and buy all the products I try.
---
Hi, I'm Emilie Filou, a freelance journalist. I specialise in business and sustainability issues and have a long-standing interest in Africa. If you liked Buzzing, please share it with friends, or buy me a coffee. My funky cricket avatar was designed by Sheila Lukeni.
If you were forwarded this newsletter, subscribe here!